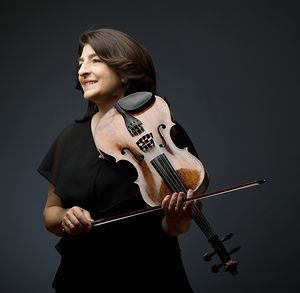 Aloysia Friedmann – violin and viola
Founder and Artistic Director of the Orcas Island Chamber Music Festival in the Pacific Northwest, Aloysia Friedmann is firmly established as a major influence in the American chamber music scene. In recognition of this fact, Chamber Music America invited Ms. Friedmann to their national Board in 2016. In December 2018 Aloysia Friedmann was named a Musical America Top Professional of the Year.
Ms. Friedmann's broad ranging career has included national and international tours, performances with New York's most prestigious musical ensembles including the Orchestra of St. Luke's, and a special onstage role on Broadway alongside Dustin Hoffman in The Merchant of Venice. While in New York, Ms. Friedmann worked with artists including Astor Piazzolla, Mirella Freni, Jessye Norman, Frederica von Stade, John Adams, Charles Mackerras, André Previn and Mikhail Baryshnikov, as well as Elton John and Metallica. The New York Times praised her "fiery spirit" after her Carnegie Recital Hall debut.
Aloysia Friedman has performed as guest artist in the Hong Kong International Chamber Music Festival, Florida's Amelia Island Festival, Colorado's Strings in the Mountains Music Festival, Napa Valley's Music in the Vineyards, the Cactus Pear Music Festival, the Seattle Chamber Music Society, the Sun Valley Summer Symphony, and the Santa Fe Chamber Music Festival. Her chamber music colleagues have included Abbey Simon, Gervase de Peyer, Peter Schickele, Chee-Yun, Gary Hoffman, Jeffrey Kahane, William Preucil, Lucy Shelton, the Miró Quartet, Cho-Liang Lin and Lynn Harrell.
This past summer included performances at the Maui Chamber Music Festival, San Diego's Mainly Mozart Festival, and ChamberFest 2016 at the Green Music Center in Sonoma, CA.
Chamber Music America recognized Aloysia Friedmann's artistic leadership with its 2008 CMAcclaim. She also serves on the Advisory Council for Chamber Music Houston. Ms. Friedmann is featured as both performer and producer on several festival recordings, and has produced recordings for violinist Stephanie Sant'Ambrogio and pianist Jon Kimura Parker.
In Houston, Ms. Friedmann is Associate Concertmaster for the River Oaks Chamber Orchestra and performs with the Houston Grand Opera. Highlights of concerts in Houston include her solo viola performance of Morton Feldman's Rothko Chapel in the Rothko Chapel in addition to performances with Da Camera, Context, and many chamber concerts at the Shepherd School of Music at Rice University. She has taught as an Affiliate Artist of Viola and Violin at the Moores School of Music at the University of Houston.
Aloysia Friedmann plays on a Grancino violin and the ex-Rebecca Clarke Grancino viola. Ms. Friedmann graduated from The Juilliard School and also studied at the University of Washington with Emanuel Zetlin. Aloysia is the proud daughter of violinist Martin Friedmann and oboist Laila Storch. She is married to concert pianist Jon Kimura Parker and they have a daughter, Sophie.
(CURRENT JANUARY 2019)