Back to List
Acclaim
Mainly Mozart Wind Players Flaunt Their Prowess in Chamber Concert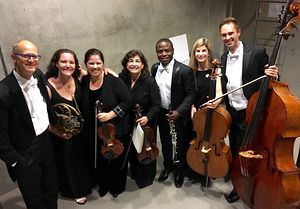 For composers, success can be a curse. Take Sergei Rachmaninoff and his famous Prelude in C-sharp Minor, the composition that had become his calling card early in his career as a concert pianist in his native Russia. However, later in his career as a touring virtuoso, American audiences would insist he play this piece wherever he performed. It is said that under such circumstances, when he played the Prelude's unforgettable three opening chords, he would mutter to himself "Oh, my God!" in time with the chords.
We don't know what Beethoven muttered about his Septet in E-Flat Major, Op. 20, but we do know the chamber work's initial popularity with the public and critics irked him to no end. Both the Septet and his First Symphony premiered on the same program in 1800, and while everyone raved about the Septet, the First Symphony was received with indifference. Imagine a great chef, after setting out a multi-course banquet, watching the assembled diners scarfing down his hastily prepared appetizers and leaving his grand entrée virtually untouched on their plates.
Erik Behr [photo courtesy of Mainly Mozart Festival]
Seven members of the Mainly Mozart Festival orchestra gave a vivid, yet immaculately focused performance of Beethoven's Septet Friday (June 23) at the Auditorium at TSRI in La Jolla. The players may have taken their dramatic cue from violinist Juliana Athayde, whose fiery drive and bright sonority tended to dominate the ensemble, although her colleagues were anything but submissive. Clarinetist Anthony McGill, for example, chose subtly sensuous melodic persuasion to draw attention to his contributions, while his woodwind cohort, bassoonist Whitney Crockett, etched his lines with bold, determined articulation.
No doubt the opening movement's bumptious Allegro con brio bears much of the responsibility for the Septet's populist reputation. Had John Williams lived in Beethoven's time, he would have written such bouncy, angular fare with its splashy instrumental colors. Once the Mainly Mozart players had traversed this terrain, they treated the audience to unusually soulful accounts of the more tranquil middle movements, especially the Theme and Variations movement, replete with the resourceful invention that would later blossom magnificently in the development sections of his symphonies.
Three pairs of wind players opened this concert with Mozart's Divertimento in E-flat Major for Wind Sextet, K. 252, a charming bit of 18th-century dinner music written with evident glee by the 20-year-old composer. This genre of music later appeared with such clever dramatic effect in the finale of Mozart's opera Don Giovanni, where a similar onstage wind band accompanies the Don's solitary last banquet. The composer gave much of the attractive solo work to the oboes in this Wind Sextet, with Principal Oboe Nathan Hughes applying his customary finesse to the pert opening theme of the Allegro molto. In the closing Presto, oboist Erik Behr matched Hughes' sparkling technique, allowing these two soloists to lavish a level of virtuoso flair the likes of which the composer probably never experienced in Salzburg.
—
Ken Herman,
San Diego Story